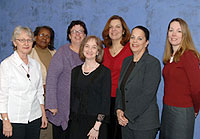 The NYS Psychiatric Institute Department of Nursing's mission includes clinical care, research, and education of trainees. Departmental clinicians strive to: provide the highest quality care/treatments in the least restrictive environment possible; generate/support/participate in research protocols; and train a new generation of healthcare providers in both traditional and newer therapies. Health promotion, maintenance, and rehabilitation are viewed as essential in meeting the needs of patients, their families, and significant others. Interactive education of recipients is incorporated throughout all phases of contact.
CONTINUOUS QUALITY ASSESSMENT AND IMPROVEMENT PROGRAM
The Nursing Department has an active Continuous Quality Improvement Program to insure quality care for patients/subjects and foster the professional development of nursing staff. .
STAFF DEVELOPMENT COURSES
Education and training of nursing personnel (i.e., registered nurses and mental health therapy aides): Nursing Staff Development has core responsibilities involving: orientation of new employees; provision of a Basic Life Support Course; an annual up-date in Preventing and Managing Crisis Situations; Mock Codes (Cardiac Arrests); assessment of competency; and identification of training needs which are addressed at unit-based inservices and other forums. The PH/PI Psychiatric Nursing Council, which is comprised of representatives of the Nursing Departments of NYS Psychiatric Institute, The New York-Presbyterian Hospital, and the Columbia University School of Nursing, sponsors Nursing Grand Rounds.
Training of resident physicians: new residents are oriented to the emergency medical system and related equipment. Training includes the procedures to activate the emergency system; the potential types of medical crises; and the expected staff response.